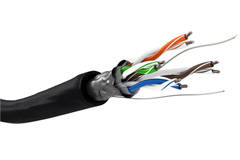 • For installation in walls and ducts, i.e. between the patch panel and wall sockets, cables with solid core. are always used.
• For cable routing in the room itself, e.g. between network wall sockets/outlets, network switches, routers, computers, etc., always use network cables with soft core, as these can be crimped with RJ45 connectors. All ready-made network cables are with soft conductors.

Typically, 2 qualities are available for installation network cables. In addition, there are, of course, different types, CAT 5/6, etc., as well as shielding and conductor thicknesses.
• The cheaper type of copper-plated aluminium conductors are, of course, considerably cheaper, and often good enough for normal tasks.
• Traditional pure copper (CU) conductors, of course, ensure the best signal transmission over long distances at high frequencies, and thereby speed.