Atlona is a recognized manufacturer of AV switching and distribution solutions, converters, wireless systems, matrix switches, extension systems over HDBaseT, test equipment, etc. The company is driven by the passion to deliver the best products within each category.

At AV-Connection, you always get professional advice when it comes to sound and image solutions for meeting rooms, classrooms, auditoriums, museums and much more. We have ATLONA as one of our regular partners who deliver high performance and professional solutions, every time!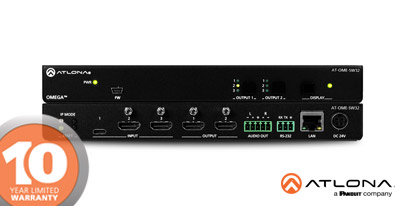 OMEGA Series
- AV for the modern workplace and meeting room. The OMEGA series is the entire family for switching, extension and video distribution, which is designed for future meeting rooms, classrooms, etc.
The OMEGA Series provides you with an easy way to connect your devices with universal AV connection - HDMI, USB-C, Displayport, so you are guaranteed that your meeting or presentation will go smoothly. The OMEGA series can be used together with SKYPE, TEAMS, ZOOM, CISCO, GoTOMEET and more. With a smart hub, you have the option of connecting a PC, camera, soundbar and headphones. The simple and user-friendly operation gives you Plug n' Play without having to press a button. The series also offers built-in automation - including automatic switching, screen control and much more.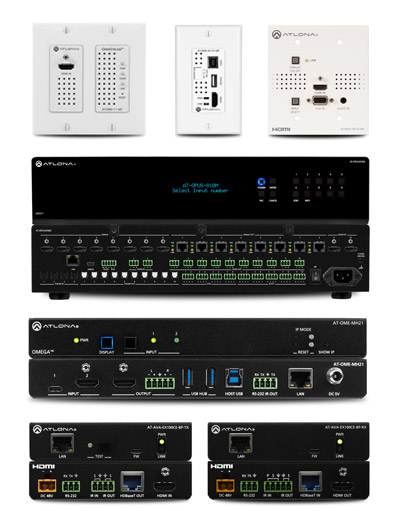 Atlona OmniStream™
is a flexible, scalable and cost-effective AV distribution platform for meeting rooms, small to mid-sized office buildings, restaurants, retail establishments, enterprises and even dorm or enterprise.
Atlona OmniStream™
delivers the performance and reliability of traditional AV distribution, plus the unlimited scalability and cost-effectiveness of integration over data networks.
Easy to integrate
The
Atlona OmniStream™
AV over IP platform is remarkably simple to set up and manage - whether for a small meeting room or an entire university. An intuitive, powerful network resource with a web-based GUI allows you to configure virtual AV routing over the network - as easily as setting up a traditional AV matrix switcher. After integration, it's easy to manage your OmniStream systems with automatic monitoring, centralized firmware update and more.
Quick network switching configuration
In addition to the easy setup of AV routing,
Atlona OmniStream™
can be quickly integrated with many popular, industry-leading managed network switches from Cisco, Pakedge and others. Simply upload an Atlona Certified Switch configuration file to your network switch and avoid the tedious process of running through setup menus and settings.
All Atlona products are of the highest quality and a 10 year warranty is therefore provided on all products. AV-Connection is an authorized Atlona dealer and installer, and uses Atlona for professional AV installations.
- Read much more about
ATLONA'S WARRANTY
(ENGLISH).
We can deliver all products from Atlona's large product range, however, the items are not individually shown in the webshop, as they are most often used in complete AV solutions and installations. Our professional department has many years of experience which ensures you as a customer the right solution when the right equipment must give you peace of mind for many years to come.
Do you want to know more, or get a quote on the right professional AV solution?
- Please contact AV-Connections Pro
Telephone: +45 7442 1079 Email: [email protected]