SYSTEMS AND SPEAKERS
STREAMING AND SMART HOME
AUDIO ACCESSORIES
Opening hours:
Mon - Thursday: 10:00 - 17:30
Friday: 10:00 - 18:00
Saturday: 10:00 - 13:00
+45 3510 3030
avo@av-connection.com
Opening hours:
Mon - Thursday: 10:00 - 17:30
Friday: 10:00 - 18:00
Saturday: 10:00 - 14:00
+45 7442 1078
info@av-connection.com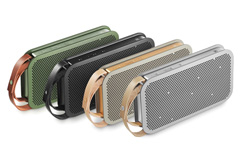 Tag dit yndlings musik med på farten, med en bærbar bluetooth højttaler. Disse transportable og små mini-højttaler med indbygget batteri, er perfekt til at give en større og bedre lydkvalitet til bærbare afspilningsenheder, som f.eks en iPhone, Android, Windows Phone, MP3 afspiller eller en tablet. På den måde kan du nyde din yndlings musik i god kvalitet, lige meget hvor du befinder dig.



Højttalerne er aktive, hvilket vil sige at forstærkeren er indbygget. Da de er trådløse er der samtidigt indbygget et genopladeligt batteri, der alt efter størrelse og mærke vil være i stand til at kunne afspille musik ved moderat volumen, i helt op til et døgn. Tilslutning af en smartphone/tablet forgår typisk via MiniJack eller trådløst gennem bluetooth.

Vi anbefaler naturligvis altid at man sender sin lyd ud i et "rigtigt" stereo anlæg for bedre lydgengivelse, men på farten, ved stranden eller på terrassen er disse små bærbare højttalere rigtig gode alternativer og langt bedre end højttaleren i telefonen.

READ MORE

Se også det vores store udvalg af Wi-Fi streaming højttalere eller aktive højttalere.
SACKit WOOFit S mini speaker
WOOFit S bluetooth højttaler fra SACKit er blevet opdateret med S-bass teknologi der giver bedre lyd end den tidligere WOOFit model
JBL GO Bluetooth speaker
The JBL GO portable Bluetooth speaker will excite you with JBL quality sound, five-hour rechargeable battery, and noise-cancelling speakerphone
JBL Clip 2 speaker
Ny og større JBL Clip med samme smarte funktioner, dog med endnu bedre lyd og batteritid. JBL Clip 2 kommer i et lækkert opdateret og vandtæt design.
JBL Tuner portable radio with bluetooth
Lyt til dine yndlings radio stationer på farten. JBL Tuner har både DAB+, FM radio, Bluetooth og op til 8 timers batteritid samt en klasse lyd.

Free shipping - Free return.
SACKit WOOFit Go Bluetooth speaker
WOOFit Go Bluetooth højttaler med batteritid på op til 8 timer - Stor lyd på farten og lækkert dansk design beklædt med Xpress stof fra danske Gabriel
WOOFit JAM S speaker
WOOFit JAM S bluetooth højttaler fra SACKit er blevet opdateret med S-bass teknologi der giver bedre lyd end den tidligere WOOFit Jam model
Libratone TOO wireless speaker
Libratone TOO er en ultra kompakt Bluetooth højttaler med god lyd. Special anbefalet og 5 stjerner i Lyd og Billede!

Free shipping - Free return.
SACKit MOVEit Bluetooth speaker
MOVEit med Bluetooth har stor lyd og lækkert dansk design, som både kan bruges i hjemmet og tages med på farten - just move it!
JBL Flip 3 speaker
Efterfølgeren til den anmelderroste JBL Flip er blevet endnu bedre! JBL Flip 3 har bedre batteri tid, er stænksikker og med JBL Connect teknologi.
JBL Flip 4 speaker
Ny Flip højttaler fra JBL med endnu bedre lydkvalitet og op til 12 timers batteritid. JBL Flip 4 er nu blevet helt vandtæt (IPX7).

Free shipping - Free return.
Bose SoundLink Colour II Speaker
Bose SoundLink Colour II er en lille og transportabel højttaler der afspiller din yndlingsmusik, fra din fortrukne Bluetooth enhed med klar og fyldig lyd
JBL Charge 3 speaker
JBL Charge 3 stænksikker bærbar højttaler med højkapacitetsbatteri, for lang spille tid og til opladning af dine mobile enheder som en power bank.

Free shipping - Free return.
JBL Pulse 3 speaker
JBL Pulse 3 er en vandtæt transportabel trådløs højttaler, med genopladeligt batteri, Bluetooth® og LED-lysshow.

Free shipping - Free return.
LOEWE Klang M1 bluetooth speaker
Bluetooth højtaler i lækkert design fra Loewe. Klang M1 har indbygget batteri, så den kan tages med på farten, hvor musikken kan nydes i op til 12 timer.
Panasonic RX-D55 Ghettoblaster
Kraftfuld ghettoblaster med CD, kassette, radio, USB og en udgangseffekt på 20W. Panasonic RX-D55 kan også køre på batteri.
BeoPlay A1 portable speaker
BeoPlay A1 har True360 lyd og langt mere power, end størrelsen berettiger - Designet til musik på farten med op til hele 24 timers batteritid!
BOSE SoundLink Revolve mobile Speaker
SoundLink Revolve er en lille transportabel Bluetooth højttaler, der er i stand til at levere en ægte 360° lydoplevelse. Har op til 12 timers batteritid.
Vifa Reykjavik portable speaker
VIFA Reykjavik har to tweetere samt en woofer og giver forbløffende god lyd ud fra sin størelse, kan endvidere sættes op i stereopar hvis du har to Reykjaviks
BOSE SoundWear speaker
Bose SoundWear er en bærbar bluetooth højttaler der skal hvile på skuldrerne. Højttaleren leverer en dyb, klar lyd og kan afspille i op til 12 timer trådløst.
Marshall Kilburn speaker
Smid ledningerne væk og tag koncerten med på vejen via Bluetooth. Marshall Kilburn har op til 20 timers batteri tid og et lækkert retro design.
JBL Xtreme speaker
JBL´s ultimative stænksikre, bærbare højttaler med kraftfuld ydelse og et hav af funktioner, samt naturligvis nyeste Bluetooth streaming.

Free shipping - Free return.
Libratone Zipp wireless speaker
Den nye Libratone Zipp kombinere exceptionel lydkvalitet, med brugervenlig multirums funktionalitet. Frihed har aldrig lydt bedre!
Klipsch The One wireless speaker
Luksuriøs bluetooth højttaler fra Klipsch med op til 8 timers battertid. The One er udført i ægte træfinér, med lækre kobber drejeknapper.

Free shipping - Free return.
Vifa Helsinki portable speaker
Helsinki er det nyeste medlem i Vifa familien. Den kombinerer et karakteristisk, kompakt design, robuste materialer og overlegen lydkvalitet.
JBL BOOMBOX portable speaker
JBL BOOMBOX er den største og kraftigste transportable højttaler fra JBL. Højttaleren har op til 24 timers batteritid og er IPX7 godkendt (vandtæt).

Free shipping - Free return.
BOSE Pro S1 compact system
Sound great anywhere with the ultra-portable Bose S1 Pro Multi-Position PA system. Designed for musicians, DJs, and general PA use.