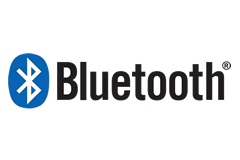 Bluetooth is a wireless technology for data transfer between enabled devices over short distances. Intended to be a universal means of communication, it is supported by a vast number of consumer electronics. A common use is for the transfer of audio between mobile devices and headphones.

Bluetooth has been developed through many years and audio quality has been highly improved throuhgout the years, by use of Apt-X protocol for loss less streaming.

Bluetooth is of swedish origin, and takes its name from the danish king of old, Harald Blåtand (Bluetooth being the anglicised form), who united dissonant danish tribes into a single kingdom. The logo is a merging of the runes for "H" and "B", the king's initials.