FLATSCREEN TV
PROJECTORS AND SCREENS
PLAYERS
ACCESSORIES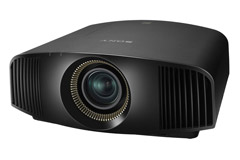 Hos AV-Connection har vi altid haft en stor passion for hjemmebiografer, og grundstenen i en hjemmebiograf, udover et godt lydsystem, er naturligvis en god HD eller 4K projektor og tilhørende filmlærred.

Vi fører et seriøst udvalg af de nyeste og mest attraktive 16:9 Fuld HD og Ultra HD projektorer på markedet og ikke mindst til fornuftige priser. Der er mange teknologier inden for videoprojektion, såsom LCD, DLP og D-ILA/SXRD baserede projektorer, alle med hver deres styrker og svagheder. Vi har altid de populære projektorer til demonstration i vores biograf-showroom i Sønderborg og Odense, så kontakt os blot for en projektor demo.
Som alternativ til en projektor i hjemmebiografen kan man naturligvis også overveje et stort fladskærms TV, se vores udvalg fra SHARP, som laver de helt store modeller! Det er dog stadig ved projektorer man får størst billede for pengene.
LCD projektor teknologien er en af de mest brugte inden for hjemmebio brug, da denne type projektorer giver et utrolig flot og roligt farverigtigt billede via de 3 LCD panler, og til en yderst attraktiv pris. LCD projektorer er dog kendt for at have lidt ringere kontrast og sortniveau end DLP og D-ILA (LCOS) projektorer, men forskellen mellem de andre standarder og LCD er efterhånden meget lille, da teknikken er forfinet gennem mange år. LCD er den billigste teknik for projektorer, men lever rigeligt op til de fleste folks krav, da det ofte er her man får mest for pengene.
DLP projektorer er kendte for ultraskarpe billeder, flotte farver, høj naturlig kontrast og sortniveau, grundet teknologies reflekterende paneltyper. DLP panelerne (DMD), optikken osv. er relativt dyr i DLP regi, og derfor er der normalt kun et enkeklt DLP panel i projektorer under 100.000 kr og farverne genereres via et roterende farvehjul. Dette kan give regnbue-effekter og et knap så roligt billede som projektorer med 3 paneler, men er dog kun et problem, hvis man er følsom for dette og ellers er teknikken fantastisk til hjemmebio brug.
Både Sony og JVC har udviklet hver deres reflekterende LCD-lignende paneltype ved navn SXRD (Sony) og D-ILA (JVC). Disse paneltyper samler fordelene fra både LCD og DLP, hvilket giver en virkelig god projektor-teknologi til en stadig mere overkommelig pris. Med flotte glansbillede-agtige farver og en utrolig dybde, fantastisk kontrast og sortniveau, som kun overgås af 3-chip DLP projektorer.


Vi har også et stort udvalg af business- og professionelle data projektorer, primært fra Panasonic og Hitachi, som dækker stort set alle projektor behov i virksomheder og til større arrangementer. Kontakt os blot for kompetent rådgivning omkring dit projektionsbehov, uanset om det er til en hjemmebiograf eller professionelt.
The shopping cart is empty.
Shipping and expense estimate
Shipping costs are calculated when items are added to the shopping cart.
Support opening hours
Mon - Thursday 9:00 - 17:00
Friday 9:00 - 16:00
info@av-connection.com
Tel. no. +45 7442 1078
Order deadlines
Monday - Thursday 16:30
Friday 15:30

Orders containing only stock items are shipped the same workday.