SYSTEMS AND SPEAKERS
PERSONAL AND STREAMING LOUD SPEAKERS
HI-FI LOUDSPEAKERS
LOUDSPEAKER PACKAGES
LOUDSPEAKER ACCESSORIES
LOUDSPEAKER BRANDS

| | | |
| --- | --- | --- |
| | | KLIPSCH LOUDSPEAKER TYPES |
| | | |
| | | |
| | | |
| | | |
| | | |
| | | |
| | | |
| | | |
| | | |
| | | |
| | | KLIPSCH LOUD SPEAKER SERIES |
| | | |
| | | |
| | | |
| | | |
| | | |
| | | |
| | | |
| | | |
STREAMING AND MULTI-ROOM AUDIO
AUDIO SOURCES AND HI-FI ACCESSORIES
PROFESSIONEL AUDIO AND CUSTOM INSTALLATION
AUDIO ACCESSORIES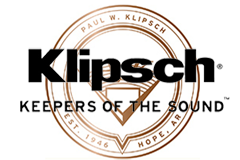 Klipsch er kendt for dets ultradynamiske lydsystemer til hjem, computere, professionelle biografer og kommercielle mødesteder; bla. er der installeret Klipsch højttalere i omkring halvdelen af alle amerikanske biografer! Med en produktlinie, der strækker sig fra skjult multiroom lyd til avancerede hjemmebioløsninger leverer Klipsch spændende high-end audioløsninger til ethvert anvendelsesområde og enhver livsstil. Se meget mere på Klipsch webside.


Klipsch højttalere har en stor, åben, detaljeret og dynamik lyd. De er generelt er lette at drive og har ægte "live-feeling", vel og mærke for relativt små penge. Klipsch lyden er typisk amerikansk og kan sammenlignes en smule med mærker som JBL og Cerwin Vega, bare mere levende!

Klipch er i sagens natur utrolig kendt i USA, dog er mærket endnu ikke så udbredt herhjemme - hvilket vi naturligvis gerne vil være med til at lave om på, så kom ind i butikken i Sønderborg og få en demonstration du sent vil glemme!

Siden sin spæde og ydmyge opstart i en hytte i Hope, Arkansas, har visionen for Klipsch været at bygge kompromisløse kvalitetshøjttalere. Fimaet blev grundlagt af den legendariske audio-ingenør Paul W. Klipsh, som byggede sine horndrevne højttalere med baggrund i at kunne placere højtalerne i et hjørne, så de kunne fylde rummet med lyd, og man fik følelsen af at have et helt orkester i sit rum.


Biografer og koncertsale har længe brugt hornhøjttalere til at gengive den storslåede lyd, men højttalere med en størrelse på typisk 3 meter, var de jo alt for store til at placere i hjemmet. Løsning var at "folde" hornet om sig selv og placere dem i et hjørne af rummet, og derved bruge selve væggene som en forlængelse af hornet og lyden. Det blev en ubetinget succes og den dag i dag og naturligvis kendt som en folde-hornshøjttaler. Mere en 60 år senere, anses Klipsch hornhøjtaler af mange for at være de bedste højttaler der nogensinde er lavet, og er det eneste højttaler i verden, der har været i uafbrudt produktion i over 60 år.

The shopping cart is empty.
Shipping and expense estimate
Shipping costs are calculated when items are added to the shopping cart.
Support opening hours
Mon - Thursday 9:00 - 17:00
Friday 9:00 - 16:00
info@av-connection.com
Tel. no. +45 7442 1078
Order deadlines
Monday - Thursday 16:30
Friday 15:30

Orders containing only stock items are shipped the same workday.