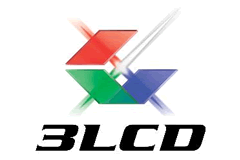 3LCD is at teknologi present in projectors. The Light source projects a white light, which is split and divided among 3 chips, each generating an image in a basic color (blue, green and red). The 3 images are then combined in a focusing prism, creating the full-color image, and projected onto the screen.
ALL PRICES ARE INCL. 25% DANISH VAT/TAX
AV-Connection A/S • VAT no.: DK27907547 • Kaervej 71-73 • 6400 Soenderborg • Denmark • Tel. +45 7442 1078 • E-mail: info@av-connection.com
© Copyright AV-Connection A/S. All images and texts on the website are copyrighted and any copying without specific permission is prohibited. Copying and photographing of the website with sales in mind is prohibited under sections 1 and 2 of the Copyright Act. Parties who do not comply with this will be required to pay compensation and be prosecuted in accordance with section 38.