SYSTEMS AND SPEAKERS
PERSONAL LOUDSPEAKERS
HI-FI LOUDSPEAKERS
LOUDSPEAKER PACKAGES
LOUDSPEAKER ACCESSORIES
LOUDSPEAKER BRANDS

| | | |
| --- | --- | --- |
| | | KLIPSCH LOUDSPEAKER TYPES |
| | | |
| | | |
| | | |
| | | |
| | | |
| | | |
| | | |
| | | KLIPSCH LOUD SPEAKER SERIES |
| | | |
| | | |
| | | |
| | | |
WIRELESS AUDIO AND STREAMING
AUDIO SOURCES AND HI-FI ACCESSORIES
AUDIO ACCESSORIES
By using the same research and development used to create its professional cinema systems, Klipsch has developed the Klipsch KL-525-THX LCR loudspeaker to create real theater-style sound in the comforts of home. As part of the THX® Ultra2 family, this LCR reproduces all the passion that the filmmakers originally intended.

• Sealed enclosure
• Top-of-the-line internal wiring
• Dual 5.25-inch Cerametallic™ woofers
• 1-inch titanium diaphragm compression driver coupled to a 6- by 10-inch Tractrix Horn

As the smaller of the two LCR speakers in the Ultra2 family, the highly efficient KL-525-THX features a sealed enclosure, top-of-the-line internal wiring, dual 5.25-inch Cerametallic™ woofers and a 1-inch titanium diaphragm compression driver coupled to a 6- by 10-inch Tractrix® Horn.

The KL-525-THX enclosure has the same dado and rabbet construction used in Klipsch professional speakers ensuring cabinet integrity in suspended applications. The Omni-Mount suspension points on this loudspeaker facilitate wall or ceiling mounting using standard hardware.

Available in a custom Galaxy black finish with an aluminum fascia, the KL-525-THX delivers dynamic audio experiences that draw listeners into the middle of live concerts and action packed movies.

Klipsch KL-525 THX specifications:
• BUILT FROM: 2004
• CROSSOVER FREQUENCY: 1500Hz
• DIMENSIONS: 12.75" (32.4cm) H x 16" (40.6cm) W x 12.5" (31.8cm) D (w/ grille)
• ENCLOSURE MATERIAL: MDF
• ENCLOSURE TYPE: Sealed
• FINISHES: Galaxy Black cabinet with Black anodized aluminum fascia
• FREQUENCY RESPONSE: 80Hz-20kHz (+-)3dB
• HIGH FREQUENCY HORN: 10" x 6" rectangular 90 x 60 Tractrix Horn
• INPUT CONNECTIONS: 2 sets of binding post speaker terminals (connected via brass strap jumpers)
• MOUNTING: 4-bolt pattern, 1/4"-20 thread
• NOMINAL IMPEDANCE: 8 ohms compatible
• POWER HANDLING: 100 w max continuous (400 w peak)
• SENSITIVITY: 94dB @ 2.83 volts / 1 meter
• TWEETER: 1" (2.5cm) magnetically shielded, titanium dome compression driver with 9.6oz ceramic magnet structure
• WEIGHT: 32 lbs. (14.5kg)
• WOOFER: Two 5.25" (13.3cm) magnetically shielded, Cerametallic cone, cast aluminum frame drivers

INTEREST FINANCING LOAN ex. DKK
Pay over 23 mths from only DKK
REPRESENTATIVE EXAMPLE: Total amount of credit: 40.000 DKK • Repayment: 23 months • Monthly rate: 1.946 DKK
Loan rate 0.0% (variable home loan), APR: 12.1% • Total credit costs 4.758 DKK • Repayment amount 44.758 DKK
Article no. and product details
Stock
Price and ordering
KL-KL525THX: Klipsch KL-525 THX Ultra 2 LCR bookshelf/stand speaker, black (1.073,22 EUR)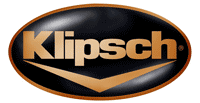 Klipsch har siden 1946 bygget kompromisløse, topkvalitets lydprodukter og der er mange musikelskere og hjemmebio-entusiaster verden over, der foretrækker Klipsch.


Siden sin spæde og ydmyge opstart i en hytte i Hope, Arkansas, har visionen for Klipsch været at bygge kompromisløse kvalitetshøjttalere. Fimaet blev grundlagt af den legendariske audio-ingenør Paul W. Klipsh, som byggede sine horndrevne højttalere med baggrund i at kunne placere højtalerne i et hjørne, så de kunne fylde rummet med lyd, og man fik følelsen af at have et helt orkester i sit rum. Biografer og koncertsale har længe brugt hornhøjttalere til at gengive den storslåede lyd, men højttalere med en størrelse på typisk 3 meter, var de jo alt for store til at placere i hjemmet. Løsning var at "folde" hornet om sig selv og placere dem i et hjørne af rummet, og derved bruge selve væggene som en forlængelse af hornet og lyden. Det blev en ubetinget succes og den dag i dag og naturligvis kendt som en folde-hornshøjttaler. Mere en 60 år senere, anses Klipsch hornhøjtaler af mange for at være de bedste højttaler der nogensinde er lavet, og er det eneste højttaler i verden, der har været i uafbrudt produktion i over 60 år.


Klipsch er kendt for dets ultradynamiske lydsystemer til hjem, computere, professionelle biografer og kommercielle mødesteder; bla. er der installeret Klipsch højttalere i omkring halvdelen af alle amerikanske biografer! Med en produktlinie, der strækker sig fra skjult multiroom lyd til avancerede hjemmebioløsninger leverer Klipsch spændende high-end audioløsninger til ethvert anvendelsesområde og enhver livsstil. Se meget mere på Klipsch webside.

Klipch er i sagens natur utrolig kendt i USA, dog er mærket endnu ikke så udbredt herhjemme - hvilket vi naturligvis gerne vil være med til at lave om på, så kom ind i butikken i Sønderborg og få en demonstration du sent vil glemme!
| | | | | |
| --- | --- | --- | --- | --- |
| | Internet product | PRICEMATCH on Klipsch | FREE shipping on Klipsch | |
The shopping cart is empty.
Shipping and expense estimate
Shipping costs are calculated when items are added to the shopping cart.
| | |
| --- | --- |
| | Large product selection |
| | Free shipping on many brands |
| | Fast delivery |
| | Pricematch on many brands |
| | Qualified service and support |
| | Dankort expence-free zone |
Support opening hours
Mon - Thursday 9:00 - 17:00
Friday 9:00 - 16:00
Tel. no. +45 7442 1078
E-mail: info@av-connection.com
Order deadlines
Monday - Thursday 16:30
Friday 15:30

Orders containing only stock items are shipped the same workday.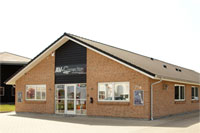 Radio/TV, Hi-Fi and Home cinema
AV-Connection in Sønderborg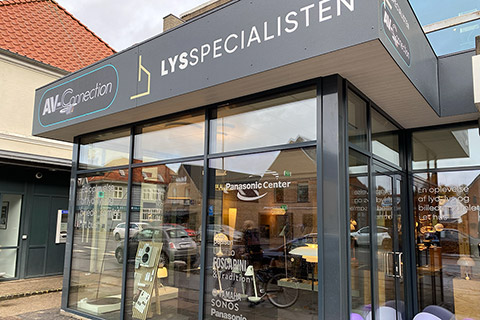 AV-Connection Odense - Audio/Video, Hi-Fi and home cinema